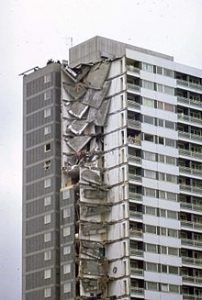 Before the reign of Queen Victoria, Canning Town had no real significance and it did not even get its name until the Victorian period. It is probably named after Charles Canning. He was a famous and popular character at the time as he had successfully managed the Indian Mutiny in his role as Viceroy of India. Once the area started to be developed, it turned into a busy industrial and commercial hub.
During the 1930s, housing conditions in Canning Town were so bad that the local council started a program to clear the slums and to provide better social conditions for local residents. Many properties were torn down, and new houses, nurseries, medical clinics and even a lido opened in the area.
The Second World War also badly affected the area and led to further redevelopment after the war. Much of the East End was a prime target for German bombers and it is estimated that over 85% of local housing stock was destroyed.
Canning Town was also the scene of one of the worst bombing events in the war, although a government cover up at the time hid the full extent of the incident. In September 1940, local residents were sheltering in the basement of South Hallsville School during an air raid. They were staying in the school because they had been evacuated from their homes.
The school suffered from a direct hit burying all of the sheltering locals under piles of rubble. Reports at the time indicated that around 70 people died in the incident, but it is now believed that close to 600 people died on the site making this the worst civilian casualty rate in a bombing raid during the war.
Due to the massive loss of housing caused during the blitz, social housing took the form of new council estates, including a number of high-rise tower blocks, which were popular at the time.
One high-rise block became well-known in the 1960s for all the wrong reasons when a gas explosion caused an entire corner of the block to collapse. Ronan Point and its surrounding high-rises were demolished to make way for safer, and smaller, houses and the lessons learned from this accident changed the way that high-rises were built.