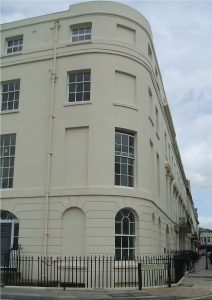 The window tax was a property tax based on the number of windows in a house. It was a significant social, cultural, and architectural force in England, France, Ireland, and Scotland during the 18th and 19th centuries. To avoid the tax some houses from this period can be seen to have bricked-up window-spaces. In was introduced in England and Wales in 1696 and was over-ruled in 1851, 156 years after first being introduced. France (established 1798, over-ruled 1926) and Scotland both had window taxes for similar reasons.
When the window tax was introduced, it consisted of two parts: a flat-rate house tax of 2 shillings per house, equivalent to £12.51 in 2015, and a variable tax for the number of windows above ten windows in the house. Properties with between ten and twenty windows paid an extra four shillings, equivalent to £25.03 in 2015 and those above twenty windows paid an extra eight shillings, equivalent to £50.06 in 2015.
The bigger the house, the more windows it was likely to have, and the more tax the occupants would pay. Nevertheless, the tax was unpopular, because it was seen by some as a tax on "light and air". A similar tax existed in France from 1798 to 1926.
There was a strong agitation in England in favour of the abolition of the tax during the winter of 1850–51, and it was accordingly over-ruled on 24 July 1851, and a tax on inhabited houses substituted. The Scottish window tax was also abolished at the same time.