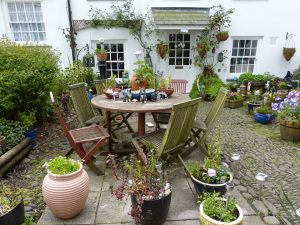 If you are fortunate enough to have a front garden as well as a rear garden, then you have probably considered paving it for easy maintenance… don't! The front garden is more important than the rear garden. They are for show and not for relaxation and for curb appeal, not for parties and play.
Start with these seven golden rules and your front garden will impress every passer-by:
Blend in with the street. Every road has a 'look' and if you take your front garden too far away from what's normal for your street, you will create a 'wow' but not in a good way. You can still raise the tone, if other front gardens in your street are neglected you can go for quietly smart. And if every other garden has been made over like a daytime TV programme, you might have to work a bit harder and invest some more time in your project.
Symmetry and structure will give a great aspect. Look for well defined flower beds, straight lines and solid planting. The hardest look to pull off in a front garden is a wildflower meadow with plants flowing everywhere – go for the opposite of this and you'll be on the right tracks.
Structure will maintain the aspect of the garden even if it's wintertime. And winter is a key period for the front garden! It will likely be your one glimpse of greenery on your way from the house to the car, so getting the winter look right is crucial. The shapes of the flower beds will be seen, and is therefore crucial to get this right.
The layout – the bones of the garden – needs to signal where people should go. It's an obvious point but one that's often forgotten. When folks walk to your house the front garden needs to show them the way to the front door. It's purpose, if you like, is to direct. The easiest way to do this is with a clear path and a big signal to mark the front door. Big pots either side of the front door will do the job. They say 'Hey look over here, this is where you need to go!'.
When you're putting in the structure, work with the house and the windows. Planting should be high between the windows, low in front of them. Accentuate the patterns of house, don't work against them. This will often give you a good pattern to copy around the rest of the front garden. The pace of the lower and higher planting can be used at the sides and alongside the road. Use the same spacing and the whole thing will come together like a symphony.
You may not think about selling right now, but it's likely to happen at some point, so if you're putting money and effort into your front garden think about kerb appeal to buyers. What would you like to see if you were thinking about buying this house? It's another really good reason to avoid anything whacky at the front. Kerb appeal is about looking neat and well maintained, cared about and sensible.
Finally, watch out for planning rules. These are often specific to front gardens and can cover anything from the height of your front fence to the colour of your house. To find out what applies in your area the planning department of your local council will be a good place to start. If in doubt – check it out.