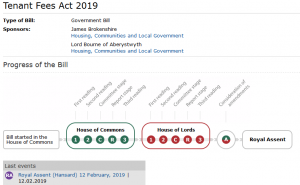 The Tenant Fees Act sets out the government's approach to banning letting fees paid by tenants in the private rented sector and capping tenancy deposits in England.
The aim of the Act is to reduce the costs that tenants can face at the outset, and throughout, a tenancy, and is part of a wider package of measures aimed at rebalancing the relationship between tenants and landlords to deliver a fairer, good quality and more affordable private rented sector.
Tenants will be able to see, at a glance, what a given property will cost them in the advertised rent with no hidden costs. The party that contracts the service – the landlord – will be responsible for paying for the service, which will help to ensure that the fees charged reflect the real economic value of the services provided and sharpen letting agents' incentive to compete for landlords' business.
The ban on tenant fees will come into force on 1 June 2019.
The government will shortly be publishing guidance for tenants, landlords and letting agents to help explain how the legislation affects them. Keep an eye on our Blog for further updates.
Source: https://services.parliament.uk/Bills/2017-19/tenantfees.html