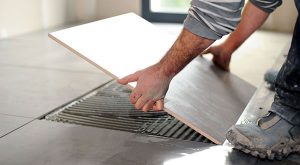 It's no secret that tiling is a more practical approach for your bathroom floor than paint or carpet. It is one area that experiences more water exposure than others, and unlike carpet, most tiling is able to withstand it.
But with this said, some types of tiling are able to handle it better than others, and it's important to be aware of what you're paying for when going with your chosen material.
Below are some of the most popular tiles used in modern bathrooms, listed to help you select the best bathroom tile for your bathroom.
Porcelain
Porcelain tiles are one of the more popular choices for bathroom floors; they are better suited to those with smaller budgets and who don't intend on changing the appearance. They come in a wide range of colours and styles, allowing you to achieve a more expensive look at a cheaper price. Their durability also makes it ideal for both floor and wall tiling.
Glazed porcelain tiles are often preferred due them being more hygienic; they are able to withstand more water, scratches and bacteria which make them the most suitable for a bathroom. They are also easier to clean and maintain, and can withstand heat, so you have the option to install under floor heating with it if you want a warmer underfoot.
Slate
Slate tiles can provide your bathroom with a modern, timeless feel. They come in different shades of grey, which gives off an air of sophistication and can also work with many kinds of styles.
They're also naturally waterproof, non-stick and don't require any additional sealing, making them ideal for low maintenance bathrooms and shower cubicles. They are a better option for those with higher budgets, but for a stone tile they do have value and will retain their value for a very long time.
Quartz
Quartz tiles are becoming increasingly popular due to how pleasing they are on the eye. They come in every colour and contain a high gloss finish; some even contain small pieces of mirror within the tiles that give off a glittery look. Quartz tiles are therefore ideal for many different styles, particularly for people who want to create a more modern feel in their bathroom. They are also durable and retain their colour well.
Due to Quartz tiles being made from resin, they don't require sealing for waterproofing and are therefore perfect for any bathroom. They are a suitable choice for those seeking a no quibble, no fuss tile; they are resistant to heat and stains which makes them easier to clean as well.