Do you have some extra time this summer and you want to spend it on doing something nice for your living room? We suggest re-modelling the bookshelves and maybe keeping only the books you would recommend in your library.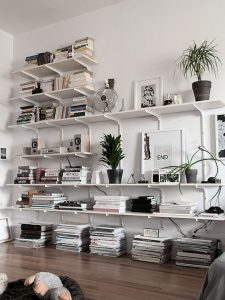 Cleaning the bookshelves can give you the sensation that you have been using your entire holiday time smartly.
First step would be to choose from your library the books you would never recommend to somebody else. Pile them up and take them to the closest books re-seller or antiquarian. You could end up with some extra money.
Use the extra money to buy a new bookshelf or maybe try to build one yourself. Here is a great video on how to build an original bookshelf in your living room or open space.
We found some more interesting ideas that you could find interesting on Pinterest.
Photo source: Pinterest post