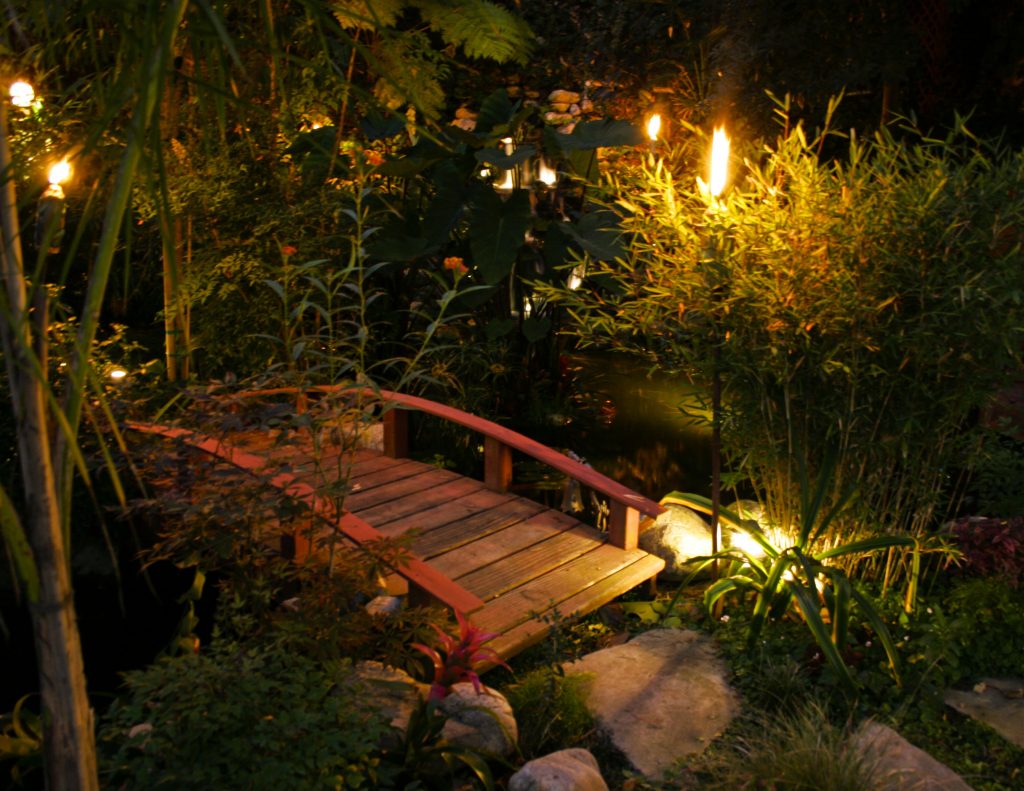 THINK OF YOUR GARDEN LIKE AN INTERIORS 'SCHEME'
Gone are the days of neglected gardens that are only used on the sunniest of days. With space often at a premium, gardens are increasingly seen as an extension of the home. And this year, interiors trends are set to make their way outside more than ever before.
Swedish cool
Both of the major Swedish interiors trends – hygge and lagom – translate to the outdoors. Whether you want flaming fire pits and cosy blankets or favour a more minimalist, pared-back approach, the latest Scandi trends will work in your garden, too.
Natural materials

As the popularity of natural materials rise in interiors, gardeners are making them their friends, too. Less concrete, less composite materials, more timber, and more soft, free-flowing elements are the key.
Colour hit
Colour is heading out into the garden and if you think clear wooden varnishes are the only option for fences, think again. Bright block colours are a great way to create the feel of an outdoor 'room'.
2. CREATE AN ENVIRONMENTALLY FRIENDLY PLOT
The environment is a hot topic and the garden is the place to put your eco-friendly credentials to the test.
Native plants

This year will see a move to planting more and more native plants that won't disrupt the ecosystem. Shopping locally will also avoid transportation costs and is likely to be more affordable in this current economic climate.
Avoid chemicals

Natural weed killers and fertilisers will become more and more important too, to avoid the polluting effect of chemicals.
Grow wild

But it's not just what you plant – it's how you plant. Wilder gardens that are slightly more unkempt are great for birds and insects, plus wildflowers attract bees. Less work, more eco– bonus!
3. REAP THE HEALTH AND WELL BEING BENEFITS OF THE OUTDOORS
Green spaces are well known for their stress-busting properties and being outside regularly will make you feel more Zen. With long work hours and more time spent in offices, 2017 is set to be a year when people remember to get back to nature.
Solo pursuits

With this in mind, you might want to use your garden as a calming retreat for reading or having a post-work glass of wine. Or you may want to get active and do some yoga stretches.
Grow your own
To be truly at one with nature, why not grow your own fruit and veg? The satisfaction of producing your own food is bound to give you a boost, plus you'll know that everything you're growing is 100% organic. What could be better for body and mind?
4) TREAT YOUR SPACE LIKE AN EXTRA ROOM
People are beginning to want more comfort from their outside spaces, so expect a big move towards furnishing your garden as you would your interior.
Outdoor furniture
The lines between indoors and outdoors are being more and more blurred, especially as French or sliding doors often lead from an open-plan space directly out into the garden. That feeling of flow means people are demanding more from their gardens and want to make sure that they are comfortable. Large seating that resembles a three-piece suite, huge multi-function cooking stations, plus sturdy dining furniture that isn't easily moved will all help to build a feeling of an 'extra room'.
Light up

Garden lighting is set to become more of a feature, rather than a functional afterthought. Uplighters beneath big plants, pretty hurricane lanterns and even fairy lights will add a magical feel after dark.
5) PLAN AN EASY-CARE GARDEN
We all know what it's like to be busy. Time is of the essence and anything that can be done to make sure that gardens aren't a time drain will be a bonus in 2017.
Mow no more

If you hate mowing the lawn, artificial grass will be your friend. With modern production techniques, faking it is a far more natural-looking alternative than ever before. No mowing, no watering – simple! If you feel you are desperate for a real lawn to sit on, minimise the work by keeping it small and filling the rest of the space with pretty pale pebbles.
Dig free

Flower beds need a lot of attention, but you can get plenty of foliage from container grown-plants. Terracotta pots are super on-trend for 2017. A variety of plant sizes will add interest to your garden.
Robust plants

Hardy shrubs and plants are the answer for those who are tight on time. There will be a move to planting varieties that aren't overly sensitive and that can thrive in any conditions. Sounds good to us. Achillea 'Coronation Gold', Alchemilla mollis and Lamprocapnos spectabilis are just a few recommended by the RHS.
Source: http://www.idealhome.co.uk/garden/garden-ideas/hot-garden-trends-2017-156339